Femmecup Review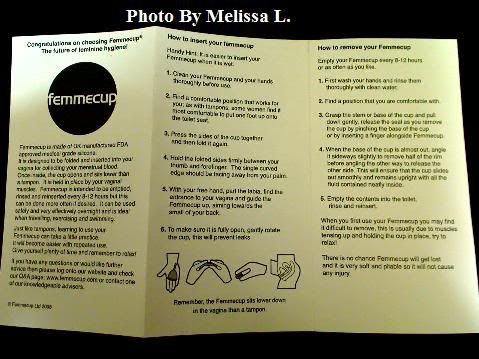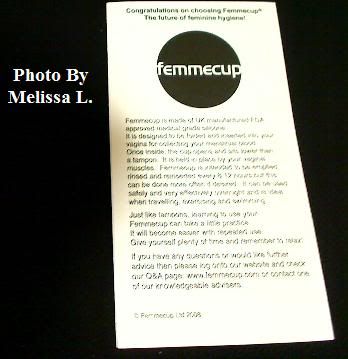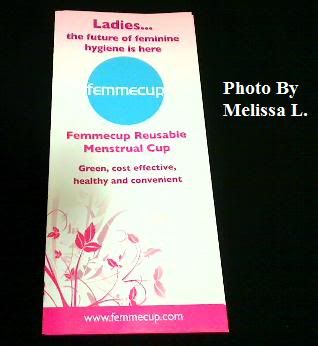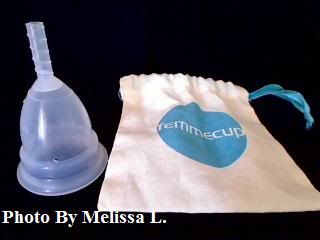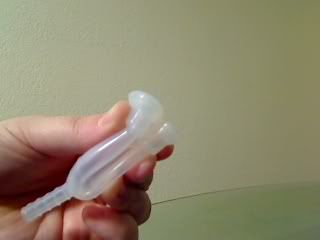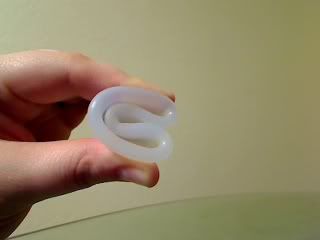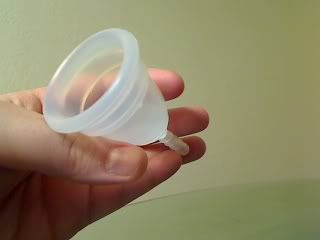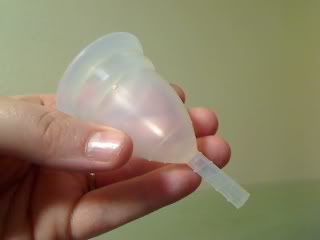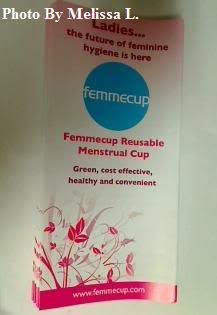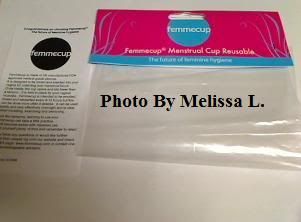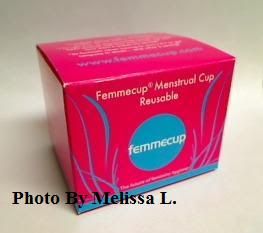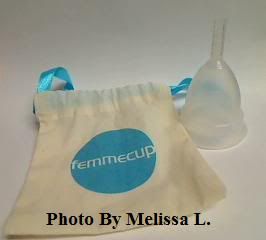 This cup was a free donation to my efforts to spread the word about cups in general. My Femmecup came in a large manila envelope, with bubble in-lining, for protection. Once I got the package open, a whole bunch of goodies were inside (I'll get better pictures of the items when my new camera arrives):
* Two types of Femmecup packaging (clear plastic, and the dainty pink box), for photo examples.
* A stack of helpful, easy-to-read pamphlets, for me to hand out.
* A clearly written user guide, with a photo diagram for folding and insertion, as well as some additional. product information, and some tips on cleaning, care, and insertion/removal (in the first picture).
* Beige and light-blue storage pouch with drawstring (made of light but durable material).
* One Femmecup menstrual cup.
My opinion:
I like the companies choice in color (pink, light-blue and white). Pink is a color that many women associate with femininity, and light-blue and white are colors often associated with clean and sanitary items. So the combination really works!
As for the cup itself– it is shorter than my Diva, so it would be extremely helpful on lighter days, and the days in which the cervix is much lower. Also, even for high-cervix days, the longer stem would make it easy to reach, as its well-textured for gripping. Of course, it can be trimmed if one desires to do so.
I also noticed that there is a difference in texture between the midsection of the cup, and the rim. The silicone of the midsection is thinner and more flexible, so that will cause less pressure against the bladder and urethra. While the rim is more pronounced and firmer– making it great for protection against leaks! The rim also allows the cup to pop open, and stay open.
On the sides, I saw that the air suction release holes were larger than Diva's, which helps to make breaking the seal much easier. That would be especially good for lighter days, because I (and a few other women I've spoken to ) tend to have tougher times breaking the seal then. The holes are also placed lower, which allows air to enter the cup without having to reach all the way to the rim– also a helpful feature!
Another good thing about the Femmecup is that keeping it folded is easy. The thinner material around the middle keeps it from springing open too soon, and its not slippery either.
In conclusion, I think this is a very well-designed cup. I like how they've made it so that you can have the softer, squishier cup body, without sacrificing the cup's ability to stay open up inside.
==========================================
Mooncup UK Review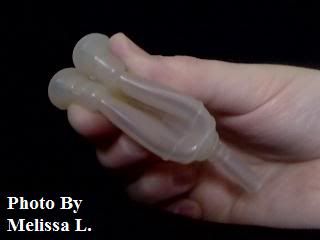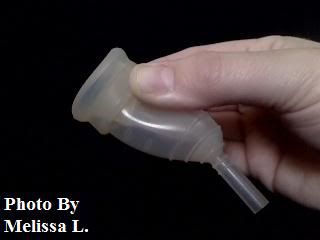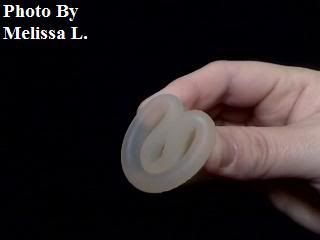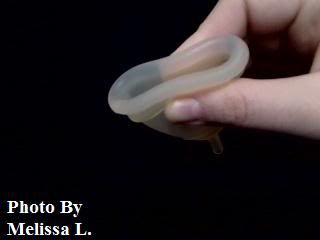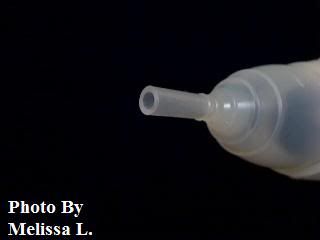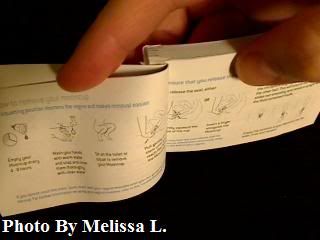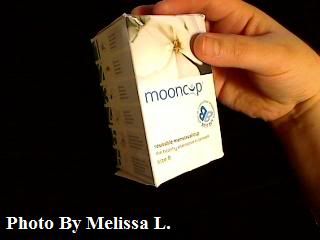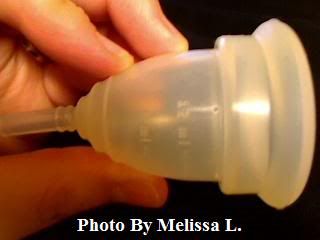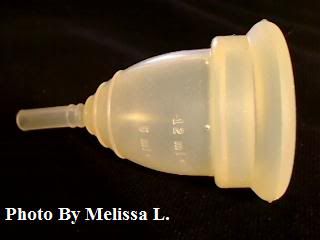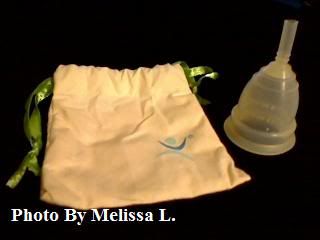 Ahhh, this is where it all started! The MoonCup U.K. was actually the first menstrual cup I had ever heard of, or seen (courtesy of Lucy's video on YouTube). It was December, 2008 and after watching an "old west" movie, I started to wonder– what did women use for their period a long time ago? What did thy use in cultures where they wore animal skins, and did not have cloth-like rags? I started doing searches on the subject, and found the "Museum Of Menstruation" online. There, while browsing around, I kept seeing the term "menstrual cup", and I wondered what on earth that was! So I did a Google search on that phrase alone. That's when I found the LiveJournal discussion forum about menstrual cups, and a video by YouTube member "Scottishboomerang" about MoonCup UK. I was very stand-off-ish at first, but evntually I decided that I wanted to try one of these items. Since then, I have started my own YouTube channel devoted to them, and acquired many different brands!
But on to my MoonCup UK review…
First off, I have to say that the UK's Mooncup is not available to be shipped to the USA anymore. This is due to a product name issue with and American company. You can Google the issue to learn more. The shipping restriction to the USA happened about a year ago, I believe. I do live in the USA and obviously I have one, but I recieved mine before the restrictions came about.
When I opened the package, there was the MoonCup UK's dainty white box, with the flower on it. Inside that was an instruction booklet in several languages, and a durable unbleached cotton drawstring pouch, that contained my small (size B) MoonCup itself. After unpacking everything, I examined the MoonCup. By this point, I had already tested out several other brands, and the first thing I noticed was that (just like everyone in the discussion forums said) MoonCup UK did indeed have a slightly yellowish tint, even brand new out of the box. I don't really mind it of course, I think it makes the cup a bit unique from the other brands.
Also that the suction release holes were very tiny (hole size has never been an issue with me though, I've always been able to get cups in and out just fine, regardless). As for size and shape, it is pretty much identical to my Femmecup. The difference is, the texture of the silicone (Femmecup is a little thinner, but stiffer). Femmecup's holes and rim are also wider. Then of course, the Mooncup UK has grip "rings", whereas Femmecup has "spirals". When my period finally arrived, I was able to try my MoonCup UK out. Everything went great, it folded easy, went in easy, came out just fine… There were no leaks.
It was very comfortable, and well-designed, easy to remove too. As a removal tip for other women, I would say pinch the base and tilt the cup from side-to-side while pulling down, until you get it almost out. Then ease one edge of the rim out, followed by the rest of the cup. I find the same technique works for LadyCup and FemmeCup. As for the stem… I did trim the stem off my DivaCup, but I will not trim it off my MoonCup UK, or any of my others. I've decided that if the stem/grips ever bother me, I will always stick to my "flipping inside-out" trick. I just like to leave the stems for photo and example purposes. People like to see what a cup looks like before being altered.
Of course, I cannot say too much about the actual MoonCup UK company, because I have never communicated with them, I bought mine through another website. But because they are no longer being shipped tot he USA, I do prize my UK Mooncup, its one of my favs and I want to keep it in great shape, so I can show it off